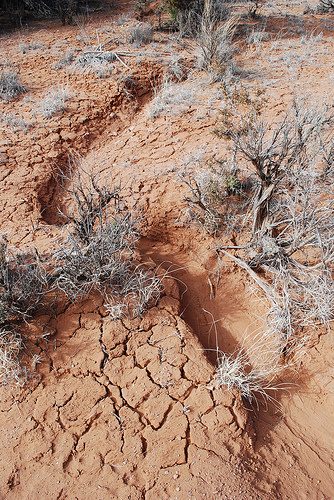 It's inevitable. I'm in it. The Dry Spell…………..!
I feel stagnant, bored, doubtful… scared. It was a busy first couple of months of the year and then bam, nothing, nada, zilch.
When there is a long period of time with few auditions and even fewer (read: none) bookings it's pretty hard to hold on to my confidence, and my dream. What's wrong with me? Am I not talented enough? Skilled enough? Have the right look? Is a career in acting not meant to be?
This, of course, is the irrational freak-out actor side of me. Well, I'm not going to say it's entirely irrational because it makes perfect sense that after a run of little auditions and no acting you'd be questioning a few things. But, I do have this one piece I hold deep inside of me that knows, just knows, it is simply a "dry spell" and nothing more. It doesn't mean anything. I have everything I need to carve my path. In fact, I should take this as a blessing- when I'm busy as hell with acting and auditioning I actually wish I had more time to do all the other projects and things I no longer have the time to do. Well, here ya go… now is that time! And I have been using it wisely, I believe. I revamped my website, had some much needed hang out time with good friends. Much, much needed beach and pool-side relaxing time. Reading A LOT. And writing even more.
I also have to remind myself that even dry spells aren't really dry anyway. Fortunately, I have really awesome people that surround me to point this out. In the past three months that I have been in this supposed slump, I've started a bi-monthly artist support group with a friend, regular bi-monthly meetings with my theater company, performed in the Endless Weekend Tour, attended the PF Company Creative Retreat, completed the rough draft and preliminary edits of a feature-length screenplay, participated in a reading for a new movie, started ballet classes, performed in a staged reading of a new work at a theater I've never performed at before, moderated a panel at the 2nd annual Hollywood Fringe Fest, caught up writing my novel, started writing a play and I'm sure there's even more stuff I'm not thinking of.
So, I guess I just dispelled my entire blog post. The Dry Spell is a myth. It's not dry. Just because one minute aspect of all the gazillion aspects of making an acting career is on a hiatus does not mean you're not doing anything. In fact, I'm feeling pretty good now that I've reached the end of this post- I've been busy!