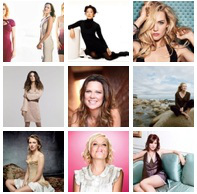 Last Thursday was International Women's Day, March is Women's History Month, I'm currently in a production of the Vagina Monologues as part of a women's theater festival… Needless to say, I'm feeling love for the ladies right now. Going along with this theme, I've compiled a list of 10 awesome women in entertainment I'd be honored to work with one day.
1. Parker Posey (duh)
All-time favorite actress. Long-standing "indie queen". Powerful on-screen personality and distinct style: makes every character her own. The original "quirky girl". Killer at comedy. Scene stealer. My dream is to one day get to work with her.
2. Amy Pohler
Funny, of course. Amazing in Parks & Rec. I absolutely adore Lesley Knope. But beyond comedic talents, this woman stands for something. Smart Girls At The Party, a smart, entertaining and clever show, Amy's original webseries, is geared towards young girls but is entertaining for all.
3. Meryl Streep
How can you NOT love this woman. She is insanely talented. Has had a long career that is still going strong. Plays kick ass parts and embodies her characters flawlessly. Never plays into the media hoopla. Goes for big budget or low budget, just wants to act in good projects with good roles.
4. Mila Kunis
So underrated. First off, she's a working actor- doing TV, voiceover and film. Natalie Portman got all the attention, but, personally, I think Mila stole the show in Black Swan. She is a fearless actor but displays vulnerability beautifully. Would love to work opposite her one day.
5. Geena Davis
Not only a talented lady, she is incredibly thoughtful, sensitive and driven. By making use of her position in the entertainment world, she has done extensive media research through her own Institute on Gender in Media, trying to change female portrayals and gender stereotypes in children's media.
6. Miranda July
Performance artist extrordinaire. She does it all- narrative film, short stories, installations, sculpture, video, voice over, you name it! And across all mediums, she maintains her very distinct voice making our ordinary every-day lives extraordinary, revealing the nostalgia and bittersweetness of it all.
7. Sandra Oh
I think  her character Dr Yang is the best thing on Grey's Anatomy. She also does theater (a true actor! =) She is one talented actress who has a TV and film career at the same time. I'd love to follow in those footsteps…
8. Naomi Watts
Has been working her butt off for a long time. She finally got her break in Mullholand Drive but she'd been around a long time before that. She even produced and stared in her own film (make your work, make your success!) Never does she fall prey to tabloids and gossip, but just does consistently good work, interesting characters and versatile roles.
9. Mo Collins
So many funny ladies on my list, I just realized. But I can't leave out Mo, who I've been watching on MadTV since high school. She fuckin rocks. AND…. I actually did get to meet her! (warning: tangent!) I was at a Muse concert in LA about 6 years ago and she was sitting in the row in front of me. When we all filed out after the concert was over, I worked up the nerve to say something. I told her that I love her work on MadTV and she was very gracious, said thank you, and then turned the subject to the band and chatted about the concert for a few minutes. So cool. =)
10. Brit Marling
I know she's relatively new on the scene but she is so fuckin awesome and such an inspiration. Talented, driven, intelligent, creative….She pretty much made her career happen all on her own by writing and starring in her own films. Another Earth is such a creative, moving and thoughtful film and Marling carries the movie well.