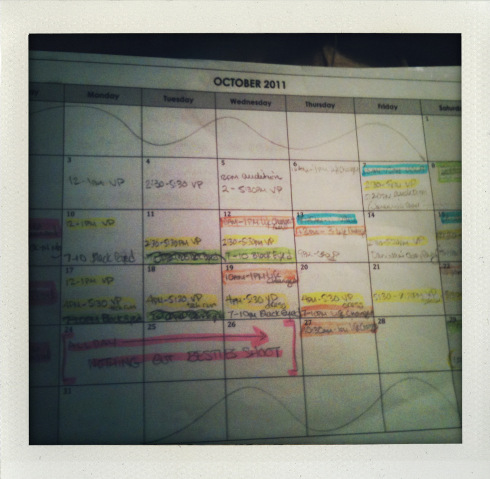 I mean figuratively of course. This is LA. However, even this figurative rain is seasonal. In fact, I think right around this time last year I had a shit ton on my plate just like I do now. Of course for the past three months I've been twiddling my thumbs and then, all of a sudden- down pour. I don't want to complain- this is all good. Very good! No more dry spell. No more doubts. No more thinking, really. There just isn't the time. Here's what I have going on:
1. Spoken Word Poetry – opening 10/21
One of my many day jobs is high school theater teacher/director. This is my second year and I couldn't be more excited about this production, which we've been working on since the start of the semester. The students wrote their own pieces for an evening of Spoken Word Poetry. However, instead of performing the pieces in the style of a poetry slam or an open mic type event, they are all staged theatrically, as if each poem is its own one-act. Anyhoo, I've been rehearsing with them practically every day and it opens this Friday!
2. Nothing But Besties Short Film – shooting 10/24-10/26
I've been in rehearsals every weekend in preparation for filming this comedic short next week, which all stemmed from a little stage play that I got to be a part of. It's crazy how everything connects and it's fun to trace the steps back to the beginning.
3. Life Changes – opening 11/11
This experience is so reminiscent of that fateful audition that changed my life. It's a new play written by the woman who is also producing it, as the inaugural show of her and her best friend's production company. They put a call out, I auditioned, got cast and from the start it's been an incredible fun and positive experience with great people.
4. The Black Eyed – opening 12/9
This play is so cool. So HARD, but so cool. I know I'm not being that articulate, which is funny because neither is my character in the play, but it is a really interesting thought-provoking piece. It's a contemporary play about four Palestinian women, written in the style of Greek theater- very poetic and lots of chorus work. It will be interesting to memorize (not to mention the other two scripts I have in my brain!) And a funny small-world moment- this play received its world premiere in SF, which was directed by the same woman who directed my friend (who wrote PianoFight's Forking that I was in, both in LA and SF) Daniel Heath's latest play. I didn't think I'd come across a name I know when researching the play.
5. Grad School! – apps due 12/1
Oh yeah, and that. I had the brilliant idea of applying to grad school amidst allll this stuff going on. Well, not really. I mean, I've been thinking about grad school for the past two years now. It just so happens that all these projects landed right at the same time. But, I'm up for the challenge!
I went to a theater opening party Saturday night and bumped into an old actor friend. He was having the same down pour, and we were saying how funny it is that one second you can be bored out of our mind wondering if you should just give up on this career altogether and then the next you're seriously considering turning down projects. But neither of us did. I got offered parts in two plays just 3 days apart. I knew some of it would overlap but I was going to make it work god dammit. Short film in between? Oh well. This is what I came back here for. I'll take it in whatever way it comes. Even if it's a god damn hurricane.