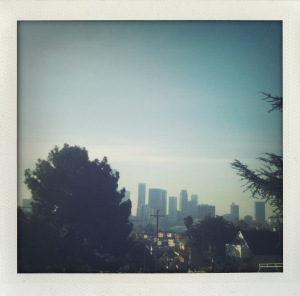 So the first couple months of the year were wonderfully crazy busy, mainly with cool acting stuff like shooting a new webseries, completing an indie feature and producing a play. And then filming was completed and the run of the play ended and just like that everything came to a screeching hault. I got anxious. I got scared. I'd submit daily on LA Casting and Actors Access and NOTHING. My boyfriend was getting auditions left and right, which only highlighted even more how I couldn't even get one!  When's the Next Thing? Will there even be a Next Thing? What do I do now? What should I do now? What direction do I take my career at this point? I need to DO SOMETHING.
With a little time (and breathing and good friends) I embraced my newfound "free time" to take up the things I complained about not having time to do before- like painting, dancing and hanging out with friends, while continually submitting for auditions, meeting with my writing partner and seeing theater (ok so maybe this "free time" is dwindling…..). I also got a fun idea for a blog post (coming soon!) to count the number of casting notices I submit for versus the number of auditions I get. So for the past week I've been diligently keeping track of all my audition submissions and guess what? All of a sudden I'm getting called in. I've had one almost every day. I'm juggling auditions between my day jobs (yes, that is plural) and meeting friends, networking, seeing shows, working shows, directing a show and now that painting I started a couple weeks ago is sitting in my office unfinished. I'm TOO BUSY! So busy, in fact, that I completely missed yesterday's blog post.
But… isn't that what I was anxious about? Having nothing to do and not moving forward in my career? Well, the second I put my energy there (in a positive way, not in a stressed/anxious/"something is wrong with me, that's why I'm not getting called in" negative way), shit started happening, so, I guess I got what I wished for. It's also a friendly reminder to myself that I AM moving forward. I AM doing stuff. I AM in it.