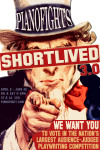 And that is my excuse for being so MIA on my beloved blog! Sorry for slacking.
ShortLived 3.0 is a 3-month long audience judged playwright competition that I've been working on for the past couple of months and it premieres this evening! Yay for self-produced stuff! Yay for local artists! Yay for theater!
If you're in LA, check it out!
Check out the brilliant Promo Vid
Special Discount Code if you become a Fan of PianoFight on Facebook