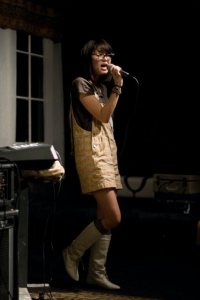 I will be saying a lot over the course of this blog some variation of: Make Your Own Work, Be Proactive, Fake It 'til You Make It, Just Do It….. and so on.
Point being, to pursue a creative profession you must actually create.
A great example is my very own sister who's had music in her blood ever since she was born. She's still in college, but that hasn't stopped her from making music and being heard. No, she doesn't have an agent, a manager or a record deal but that doesn't mean she can't continue creating songs and performing whenever and wherever she can. She's gone from playing for an audience of one in her room, to performing private shows in her co-op style house, to getting air time on college radio stations like UC Berkeley's KALX and UC Santa Cruz's KZSC.
Tonight she is taking another step forward, as she plays with her band Harlequin Baby at Adobe Books Backroom Gallery in San Francisco. If you happen to be in Nor Cal, please check out the show tonight from 7-9pm @ 3166 16th St. bw Guerrero & Valencia.