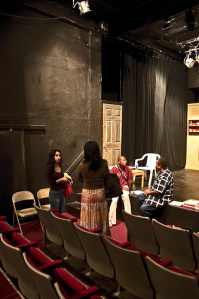 Is it cruel that it costs TONS of money to begin a career as an actor and takes FOREVER before you see any of the return? Oh well. What are you going to do, right? They don't call us starving artists for nothin'
Because it costs so much money and our dollars are so precious, it is really important to research every little thing you invest in (just like in other aspects of your life, right?) As an actor some of the things I have invested in, which I believe are the bare essentials, are head shots and  classes. This post is about the latter.
Acting classes in LA run about $300/month, on average. This is for your standard once-a-week scene study class, be it geared towards theater or film or both. Unless you're independently wealthy or have the most awesomest parents in the world, $300/mo every month adds up and you might want to think twice before just signing up for any 'ol class. That's why it is SO important to audit. Sure name-actors on the class roster, or a famous acting coach can lure you in, but don't let it fool you. Not every studio is for every actor. You really do have to find the one that will work for you in that particular moment of your career.
Years ago, when I was first testing the waters, I joined Carter-Thor studios after a strong recommendation from a dear friend and auditing his master class. I probably should've audited other classes to compare, but it worked out because Carter-Thor was wonderful and was just what I needed at that time. Two years ago when I tested the waters again (took a lot of testing before I went for the plunge), I really took auditing seriously and checked out three "name" studios (Larry Moss, Howard Fine and Ivana Chubbuck). After making my rounds, I chose Ivana Chubbuck. Yes, the "name" was important to me to have on my resume. Also, I read her book and I was interested in applying another technique, especially now that I'd found a balanced approach to acting techniques (my time at Atlantic Theater Co was not so balanced, maybe a post on that later). I learned a lot while at the studio and it was good for me then. Right now I'm on a little acting class break but I always get an itch to jump back in every 6 months or so.